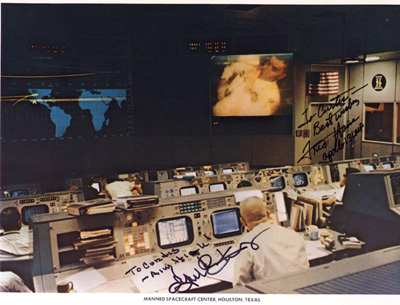 4. On Friday, April 08, 2005 former NASA flight director Gene Kranz was guest lecturer at the 2nd Annual John Glenn Lecture at the Smithsonian Institution (SI) National Air & Space Museum (NASM) on the Mall in Washington, DC. Mr. Kranz has kindly added his signature to complete the lithograph above. His personalized signature reads,
To Curtis
-- Aim High!
Gene F. Kranz
1. In February 1972 while on a Florida family vacation we visited the Kennedy Space Center. Fred Haise was backup commander for Apollo 16 which was sitting on the pad that day. At the gift shop I purchased several sets of Apollo photographs and some Apollo mission patches.

The Apollo 13 photograph at left is from one of those antique picture sets. An image of lunar module pilot (LMP) Fred Haise during a live television transmission from the Apollo 13 command module while enroute to the moon is being projected on the large screen display (LSD) at the manned spaceflight center in Houston on the evening of April 13, 1970. Several minutes later an explosion in the service module crippled the spacecraft thus causing the lunar landing portion of the mission to be scrubbed. Flight director Gene Kranz is also sitting in the foreground.

Fred Haise has signed the lithograph (NASA #7035139) and personalized it as follows:
To Curtis --
Best Wishes,
Fred Haise
Apollo 13 LMP
Click image to open a larger version in a new window (551 KB).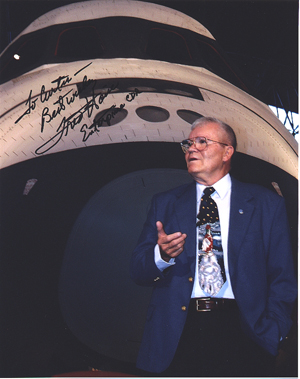 2. On Saturday, December 11, 2004 the Smithsonian National Air & Space Museum's (NASM) Steven F. Udvar-Hazy Center in Chantilly, Virginia celebrated it's first anniversary and the grand opening of the James S. McDonnell Space Hangar featuring America's first space shuttle, the Enterprise. Fred Haise served as commander of the Enterprise during landing tests in 1977. He visited the museum on the anniversary to deliver five different 45-minute talks during the day.

I took the photogaaph at left of the Enterprise and Fred Haise standing in front of its nose wearing a fancy tie depicting a space shuttle riding aloft on a bottle of Tobasco sauce. He signed and personalized my photgraph as follows:

To Curtis --
Best Wishes,
Fred Haise
Enterprise CDR

To me this photograph best represents the legacy of the troubled Apollo 13 flight. Because of the tireless dedication and hard work of the steely-eyed ground support team the crew came back alive. Because they survived Fred Haise went on to command the Enterprise and as the 71-year-old grandfather pictured here he has lived to see his children's children.

Photo by Curtis R. Click image to open a larger version in a new window (393 KB).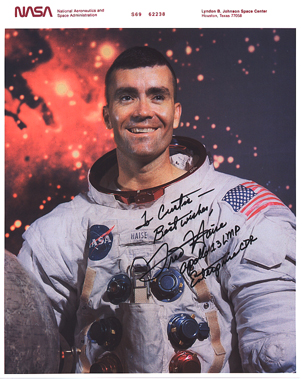 3. This photograph was an unexpected surprise. Fred Haise included it as a bonus when returning the two shown above. He is seen wearing a white spacesuit (WSS) next to a moon globe and stands in front of an astrophotograph of M16, the Eagle Nebula.

This image is numbered NASA S69 62238. Fred Haise has signed and personalized it as follows:

To Curtis --
Best Wishes,
Fred Haise
Apollo 13 LMP
Enterprise CDR

Click image to open a larger version in a new window (479 KB)